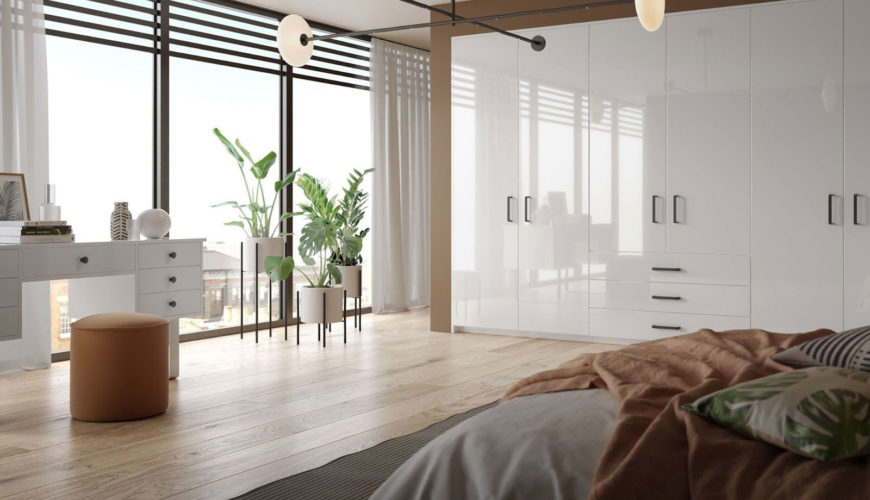 13 Aug, 2020
  Posted byadmin
 
Hi there and welcome to our very first post, freestanding vs fitted bespoke bedroom wardrobes. If you're looking to design your dream room and you don't know what's best, this week we are comparing the two. From making the most of a space to planning ahead, we've got you covered in this handy guide. Read on to explore the big debate, fitted vs freestanding robes.
Space and Functionality
When it comes to most freestanding wardrobes, did you know that they utilise just three-quarters of a standard room height? This means a significant amount of space is often left unused, leading to a lack of storage and of course, frustration. Off-the-shelf options can also easily impose, leaving a room feeling smaller than actually it is. Even more alarmingly, over time, they may start to wobble – not ideal when they are full of belongings. On the other hand, fitted wardrobes work to maximise space as the frame is custom-built to your exact requirements. Taking the frame from the floor to the ceiling will also increase storage and ensure your bedroom functions more smoothly. If you're short on space, opt for handy slide robes, so you don't need as much clearance for access. Additionally, awkward spaces can be hard to tackle, but fitted wardrobes are designed to suit.
Interior Layout Options
Whether you have sloped ceilings or an old fireplace, we can transform awkward spaces to house handbags or shoes. But whereas bespoke fitted wardrobes are wholly made to measure, you get what you pay for with standalone versions. Typically featuring a simple hanging space and maybe some drawers, freestanding robes are standard and not designed around you. At Kingfield Bedrooms, we offer storage to suit your lifestyle so you won't need to compromise or waste an inch. This is where fitted wardrobes excel and you can have fun choosing an entirely customised arrangement. Perhaps your off-duty outfits contrast with your work, we can help you get visually organised to save time in the morning.
Exterior Design and Installation
In terms of colour and finish, we have an extensive collection when it comes to bespoke bedroom wardrobes. In fact, it's never been easier to tie in with existing home decor to achieve a flowing vibe throughout. With freestanding, however, you're not quite so free and will most likely have to 'make do' with the designs on offer. It's also probably something that you yourself will have to install, but with fitted wardrobes, this is all part and parcel.
Future-Proofing for Change
Should you decide to move home, unfortunately, you can't easily take fitted wardrobes with you. The good news, however, is that they are an investment because of the premium that buyers put on storage. Maybe you're even planning to have children, therefore, it would be safer to choose fitted wardrobes over a free-standing option. Keep things simple and choose a company for both design and installation for fitted wardrobes you will cherish for years.
Bespoke Bedroom Wardrobes | Book a Showroom Appointment
Thank you for reading our first blog post and we hope that it helps you to make an informed decision. Obviously, as a team we're biased and we wholeheartedly believe bespoke fitted wardrobes make storage a breeze. Whether you're an avid shoe collector or have plenty of suits we have all of the specialist components to create your dream design. For bespoke bedroom wardrobes, look no further than us – why not book a (COVID-19 safe) appointment in our Halifax showroom? Thanks again – Ronnie and Sue.