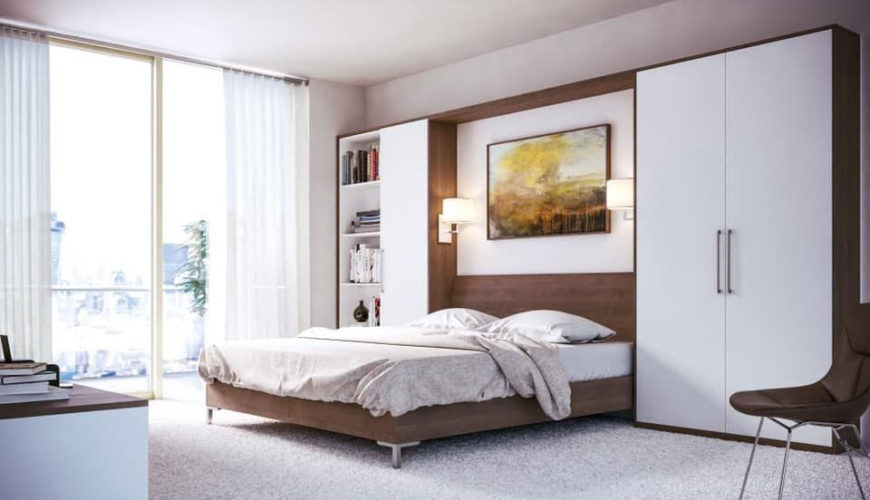 04 Aug, 2020
  Posted byadmin
 
If there's one thing we've learned from this year so far is that life can be a bit strange. Which is why we all need a place, a pleasant safe haven, we can retreat to and take five. If your bedroom is more chaotic than calm, perhaps a lack of storage is to blame for that clutter? Fitted bedroom wardrobes, however, are a quick easy fix, here are 5 benefits of going bespoke.
They make the most of the available space
In 2018, according to Which? , the number of bedrooms in homes and their sizes hit a record low. The way we utilise floors and walls has never been more key which is where fitted bedroom wardrobes come in. Unlike standalone options, fitted wardrobes are measured to fit perfectly and maximise the overall space. They can also be tailored to fit the full height of the room and turn even tightest the corner into workable storage.
Personalised design and additional features
One other advantage to fitted bedroom wardrobes is that they allow you to adapt your choices to fit you and your budget. From the exterior finish and handles to the internal components, it's you who sets the goalposts which align with your needs. Whether you favour gloss or wood, there's also no doubt custom-made is aesthetically better looking than standard. Contact us at Kingfield Bedrooms to create chic storage including the lighting which will elevate your look.
Fitted bedroom wardrobes update old decor
If your bedroom is outdated and you're in need of a change, ditch old furniture for fresh sleek storage. Fitted bedroom wardrobes will create a cohesive new look without having to change much else. We especially love Gladstone Tobacco Oak with Supermatt White for a modern yet warming vibe. If you're planning to repaint any walls we recommend you do this first, trying to re-decorate around wardrobes is tricky.
You'll be the most organised person you know
Fancy yourself as a modern fashionista? Then give your clothes the home they deserve. Whatever your style we have your back with a variety of hanging rails, shoe racks, drawers and shelves. This means goodbye to shoe mountains and floordrobes when you're the proud owner of a more organised room. Start your day off on the right foot; simply put an outfit together in minutes and go!
Fitted bedroom wardrobes make a great investment
A lesser-known benefit of fitted wardrobes is that they can actually add property value. When seeking to buy a new home, most viewers look at great storage as an absolute essential. If you're worried about the initial outlay, then have a professional do the job right to recoup what you spend later on. A ready-built bespoke wardrobe is bound to impact and will no doubt have buyers fighting over your home.
Need to more? Please get in touch!
Thank you for reading our latest post which explores the benefits of fitted bedroom wardrobes. Did you know that we spend at least one-third of our lives in our rooms and experts have proven that the way it is organised can impact on our health? If you're seeking a more balanced bedroom, we would love to help you with storage solutions that really make a difference. Please feel free to drop us a line or make an appointment to browse our collection in our Halifax showroom.
Thanks again.